[caption id="attachment_1400" align="alignleft" width="300"]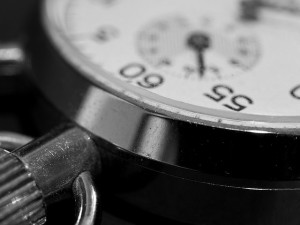 By wwarby[/caption]
AP classes can be quite the challenge for the teacher who values depth of knowledge and student engagement. On one hand there is the ever present test that you want your students to be absolutely prepared for and on the other you want them to understand the material deeply and have time to develop responsibility for their own learning. In AP Biology, this year, our scheduled has allowed us the time and space to do this. APES, unfortunately, has been a mad dash to get through the material before the exam. Thankfully, most of the members of APES have been good spirited and have put in the work that needs to be put in. In an effort to get them ready we have done lots of timed tests, lots of AP questions, and lots of learning. Most test days the students are sure that my intent is to make their lives miserable. I promise this is not the case. As Sophia says in her week in review, "A teachers gotta do what a teachers gotta do." So, with that in mind, take a few minutes to enjoy Sophia and Yesenia's laments for the week of 4/15-4/22. Also, take a moment to enjoy Shariar's unique contribution. You will need to click on the image to view it full size.
Update: Recent addition from Shaun Tarraporwalla
Yesenia Begins:
This week has been one of the longest weeks of my life. We've been having too much homework and tests at the same time, so what have we been doing in Mr. Kite's class? Too Much Work and Reading!
Monday we reviewed for our test on Wednesday, Mr. Kite was kind enough to change the date, we played Jeopardy. My group was winning at first because we're awesome but then things happen and so we didn't win. So basically Monday we studied and some people got extra credit and others, like me, didn't.
Now Tuesday, we started a new unit that we were suppose to start on Wednesday it was about nutrition. We took notes on the different types of nutrition either if you were eating the wrong things, too much or nothing at all. We also learned some of the factors that affect the process of which people get their food.
Oh! My! God! Wednesday came and Mr. Kite gave us our tests it was horrible because now we get timed. So we took the test and studied like 15-20 minutes before and that was all for Wednesday. But also the project was due on Wednesday which Mr. Kite was awesome enough to change the date to Friday. Thank You Mr. Kite!
So Thursday we took some notes about the benefits and drawbacks of industrial farming practices. We did some other things but Thursday was pretty much short… Oh yeah and Mr. Kite abandoned us after wards leaving us to finish our own notes. And that's it.
And finally the moment we've all been waiting for…Friday! Well we actually didn't want it to come because it was stressful trying to get our project in but basically we took some notes and after taking notes we divided into groups. We did a worksheet about bananas and many ups and downs about it, but anyways the week is over Thank God! 
Sophia Adds:
A report of yet another week in APES...Monday started off with review for the Air and Water test that everyone was happy about taking on Wednesday (NOT.) Review consisted of a game of Jeopardy, and if you're in this class, this game can get pretty intense. Especially if you're sitting at a table with people that have a no losing motto.
FOOD: The topic of the remainder of the week in Lab 207. On Tuesday we were introduced to the topic of nutrition, and how some places get a little amount of food, which can lead to undernutrition. We also got the idea of how malnutrition is BAD nutrition, and doesn't necessarily mean someone is being underfed. It can also mean overeating and obesity, a thing USA exemplifies well. In class we also discussed the Green Revolution and how farmers have advanced by growing our food and a faster and cheaper way. (Although that doesn't mean it's the best for our planet.)
Wednesday came along and we all took the TIMED test. Mr. Kite wants to prepare us for the AP exam, so I guess he's gotta do what a teacher gotta do. Once again, we experienced a rather fried brain, but some of us thought it wasn't as fried as it had been before with other tests.
Mr. Kite abandoned us again on Thursday because he had to do some test-scoring. As I said before, he's gotta do what a teacher's gotta do. But at least he gave us a quick lecture on industrial farming practices, such as irrigation and fertilizer before he left. The rest of class was used to work on our projects. (Which are turning out PRETTY good.)
Friday finally came (Hallelujah) before class we took a reading quiz. (I'm guessing many people finally read for that.) Afterwards, we spent class reading a case study on bananas and answering some questions based on the story. There are only 3 weeks left until the exam. Boy, time is flying.
Shariar Concludes: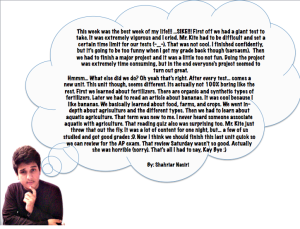 Finally, From Shaun:
We started the week off with a meeting more specifically ..a Protocol! On Monday we learned all about the Kyoto Protocol and what it aimed to do in addition to this we learned that not all countries were equal when it came to this. We then moved on to global warming which was quite strange as I was feeling pretty cold that day!We talked much about the consequences of global warming such as...
Polar ice caps melting
Glaciers melting
Sea levels rising
Changed Precipitation Patterns
Then on Tuesday we learned all about malnutrition and under nutrition and how they were different. For instance under nutrition is when an individual does not have enough food to eat however malnutrition is when an individual might not be eating the right things. we also learned about over nutrition which is rapidly becoming a problem in the United States. After learning about the various forms of nutrition we discussed diet patterns, both globally and national  We learned that in both cases Grain is the most important nutrient source that people consume. What i found interesting however was the fact that 40 pounds of grain would only be equivalent to 2 pounds of meat! We then learned about the green revolution and its impact on human society, and its core concepts...
Mechanization
Fertilization
Irrigation
We were halfway through the week when we had to take a test... a test that i feel i did REALLY bad on :)
By Thursday we started learning about the individual aspects of the green revolution. We also learned about economies of scale and how the United States is one of them. In addition to all of this we learned about various farming techniques such as mono-cropping and the use of fertilizer.
We closed the week with a reading test and some more information on farming...In Mr  Kite's absence i can say that on behalf of the class that we were all working very diligently, and silently for the duration of the period. :)