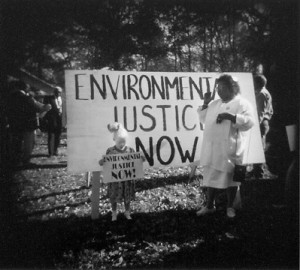 This semester was my first teaching APES. Going into the semester I was nervous about having to cram a year of material into a semester. My nervousness was compounded by a roster that weighted very heavily on the sophomore end (usually APES is a Junior or Senior level course). As our class draws to a close I am very aware of how much I will miss this class. Throughout the course of the semester they have shown themselves to be thoughtful, engaged, interested, and innovative. I've been challenged and inspired as a teacher, and I think they even learned something along the way. With that in mind, our last of two sets of reflections comes from Marcus Ramos, Ave Simpson, and Winta Daniel.
Ave Begins:
Never thought I'd actually make to the day, but last Monday, December 5th, we took our last AP Earth Environmental notes. GLORY HALLELUJAH. It's unfortunate however, that this was our last full week in Mr. Kite's class. These notes were all about environmental justice, and I think we all learned another way to spell "Programme." We also learned that we all have different views of how we feel about the environment: Anthropocentric, Biocentric, Ecocentric, and Stewardship. It's kind of astounding, all thanks to Mr Kite, that our views have changed since the beginning of the class.
Last week, we also got the presentations we've all been working on for the last nine weeks. It felt so good to finally get that over with. We had amazing presentations from Sonbearts, Zene Va'ros, Crystal Cove, Evalon, Poleafe and New Charbon. All of these cities did great job giving a proposal, but the winners were Evalon and Poleafe.
To wrap it all up, I think we had a pretty good last full week.
Marcus Adds:
week of 12/5/12 review:
Last week (more specifically Monday) was the last time we will take notes in APES. Which is good because no more new stuff to learn but it means this fun class is coming to an end. But we took our last notes on environmental justice, world organizations, government ways of dealing with environmental issues, and a specific example that dealt with the U.S.
Under the justice topic, we learned about the different environmental views: Anthropocentric, Stewardship, Biocentric, and Ecocentric. The world organizations we learned about are: United Nations, UNEP, World Bank, WHO, and UNDP. The two government ways we learned were: Command-and-Control, and Incentive Based. The specific example was the triple bottom line made by ex-president Bill Clinton saying that all progress should consider economic, environmental, and social aspects.
Winta Concludes:
12/5/11-12/9/11 Week in Review
On Monday, we started off learning about environmental justice and its world views:
~ Anthropocentric: human centered, nature is here for our usage
~ Stewardship: subset of anthropocentric, humans have an ethical responsibility to be good managers of the earth
~ Biocentric: life centered, all species (even humans) have equal intrinsic value, humans are obligated to protect living things
~ Ecocentric: earth centered, equal value on organisms, we should adapt our needs to nature; to humans who have no right to interfere with nature
We then took a look at command/ control, incentives, and the following agencies:
~ United Nations
~ UN Environment Programme (UNEP)
~ World Bank
~ World Health Organization (WHO)
~ United Nations Development Programme (UNDP)
On Tuesday, we went over how to present a good presentation and for the rest of the period we continued to work on our projects. On Wednesday and Thursday we will be presenting our final city projects. On Friday we will not have class due to 1st period final exams.