As I have previously mentioned, this summer I spent a couple of weeks working with the fantastic public health advocacy organization, North Carolina Prevention Partners. My furiously-paced weeks with them were spent working on a variety of topics related to my Kenan Fellowship project and the Public Health course I am currently writing. Undoubtedly I will take away a multitude of experiences and connections from my time with NCPP. At the moment, however, I would like to highlight something I learned while working with the organization.
For years I have known that America has an obesity epidemic and that the epidemic was particularly acute in the Southern States. I hadn't, however, been exposed to the actual statistics of the epidemic or the added economic impact that it has on the state as a whole. While working with the Prevention Partners I had a chance to read several recently released reports outlining the extent of the impact of the obesity epidemic on North Carolina. In response, and in an effort to learn a new program (easel.ly), I put together the infographic found below.
Currently I am wrapping up the obesity curriculum that I am writing for my Kenan Project. It would greatly enrich the experience of all students that interact with the lessons if they were able to engage with actual stories from those personally effected by obesity. So, if you would be willing to contribute your story please feel free to contact me via the contact form or leave your comment below. Thank you!
[caption id="attachment_773" align="alignnone" width="420"]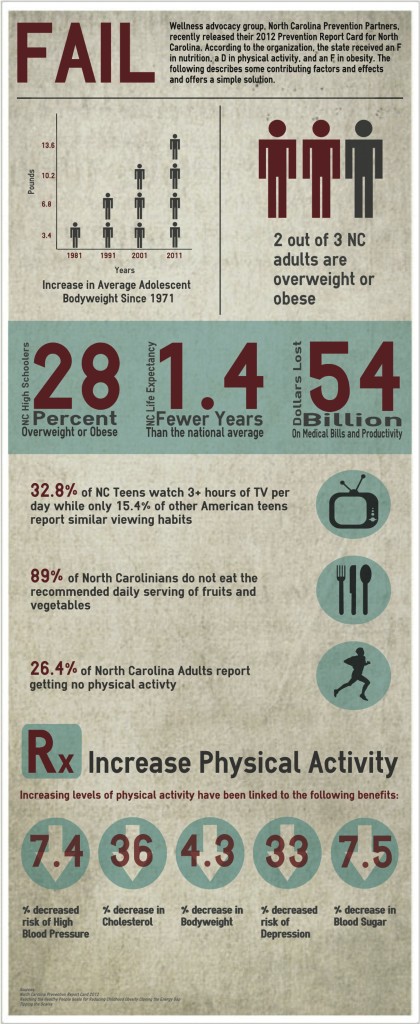 By Vance Kite[/caption]