[caption id="attachment_1423" align="alignleft" width="300"]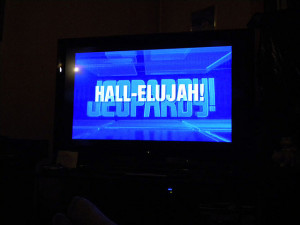 By sonyazombiee[/caption]
Well, that's all folks, almost. Our semester in APES is nearly complete. Everyone took their AP Exam on Monday and finals start tomorrow. Now, the class only must finish up their Project Restoration submissions. They'll present their projects next Wednesday, then that's it. Most of you reading this know that the last week before an AP Exam is always a difficult. Especially if the course is only a semester long. A teacher must balance finishing the content with trying to squeeze in a couple of days of review. All while battling growing spring fever in the student population. It's times like these that a little round of Jeopardy goes a long way. I'm pretty sure that the discovery of the various, online Jeopardy creators is one of the best things I've come across in terms of review. For the most part students are always very eager to compete, especially if you offer a bit of extra credit. Friendly competition aside, the games also improve student retention of material fairly significantly. Many students have remarked that it is a good way for them to stick the necessary information in their brains. If you are a teacher reading this, I would highly recommend a trip over to superteachertools.com. The interface is super easy to use and you can always save your games for next year.
If you aren't quite ready to jump in and start creating your own jeopardy review, take a few minutes to enjoy this installment of the week in review (4/29-5/3) by Alpha Ihekwu and Esther McElroy.
Alpha Begins:
During our amazing fourth period class this week, we were hard at work studying our butts off so we would be able to past the test that we had on Tuesday and the exam that we would have on May 6.  Mr. Kite our awesome teacher tried his very hardest to help us pass our test by planning the week out very careful to ensure that we would have the greatest amount of studying time.  To recap how the week had gone I will discuss what we did each day that starting on Monday when we studied for our test on Tuesday, to Thursday when we started to review for our exam that was coming up.  As I had mentioned before, on Monday we had spent the whole class period playing jeopardy that would help us see what would be on the test the next day.  Although our team did very well in the game it was not enough to beat Brian's team, but that was alright since we the main point of the game was to learn and study (biggest lie ever).  On Tuesday we came into class and took our test for the whole period so nothing really interesting happened at that day.  On Wednesday we came to class ready to learn some new notes and work on our project that would be due the following week.  On Thursday we spent a whole period doing a practice assessment that was review for what might be on the exam on Monday.  The assessment was very long on boring, but it was worth it because it help us all see what we needed to study.  Finally on Friday we came to class excited about what would happen after fourth period because that was the day of field day, so natuarally our intelligent teacher Mr. Kite suggested that we just work on something of our choice or just relax since it was a shortened period.  So mostly that day was spent doing nothing but waiting for the bell to ring.  So that is what happened this week in our cool fourth period class and I hope it will be just as fun next week too.
Esther Concludes:
This week went by pretty fast being as though next week we have our exam for this class. Monday we reviewed for our test that was on Tuesday by playing jeopardy in groups. My team won and ended up getting the extra credit on our test. Tuesday we took the test I think this was most people's best test the whole semester. Wednesday we took a practice ap test that we were to take seriously. I admit I didn't take mine to serious. Thursday we were giving a choice on what to do in class it was a survey that was put on edmodo, we also did an "ap check" to see what we needed to review this weekend from the test that we took Wednesday. The survey asked whether we wanted to review by playing jeopardy or finish work for the class. Most people chose finish work for the class. Friday we had field day so we were only in class for 30 min we basically worked on more work that we needed to finish for class. That was my week before exams in Mr. Kite's AP earth science class.